Water Tower, Siófok
The Water Tower, built in 1912, has become one of the representative sights in today's Siófok. Located in the city center, the building was designed by Jenő Gergely and Árpád Gut. According to period description, it stood 45 meters tall which today measures at 41,3 meters.
Originally it provided water supplies, today it is only used as a lookout tower. During World War II, it was used as an observation point for German troops until it was damaged by a tank. The city stored water in the tower up until the 1970's after which it stood empty for two decades.
In 1998 its interior was renovated. Three years later the there was a panorama terrace and an exhibition space on the second level but at the end of the same year the tower was closed. By 2002 it was in a rather bad condition but a complete renovation only begun in 2010 to be finished in the same year.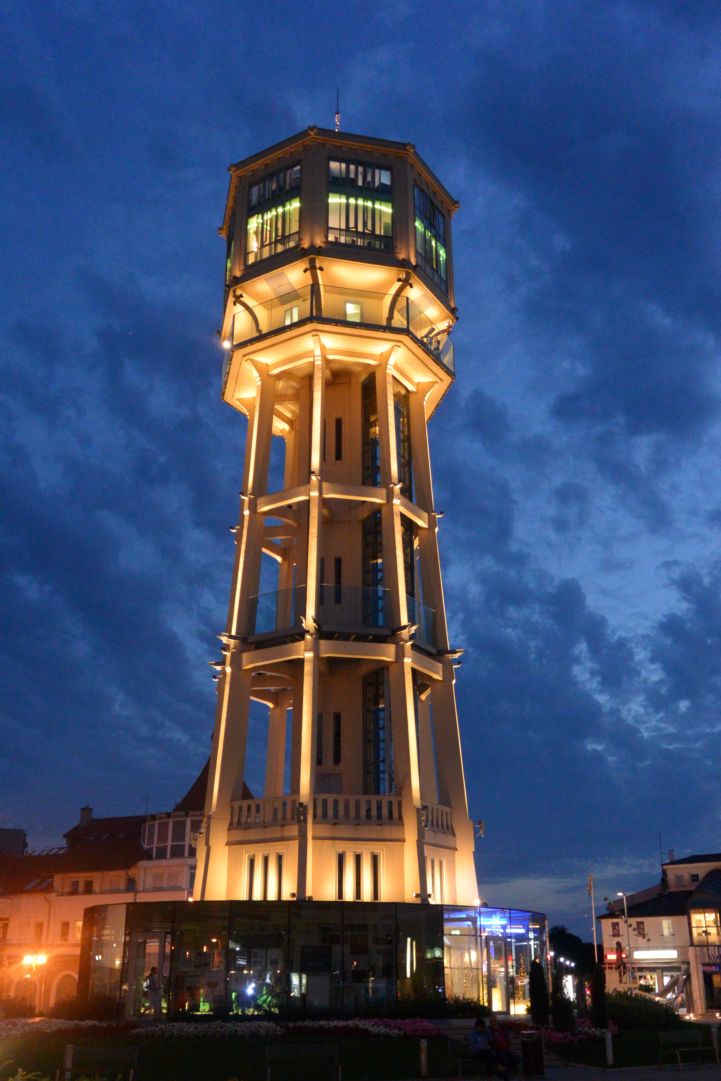 After purchasing an admittance ticket, visitors can use one of the two panorama elevators to reach the upper level of the Water Tower, which was originally the water storage, and where today there is a cafe, and oxygen bar, an interactive visitor's center and, of course, the spectacular panorama. The tower is open all year round and from the inside we can see the opposite shore of the Balaton, the Somogyi Mountains, the Tihany Peninsula and the hills of Hegyhát region.
The tower itself has three levels and the circular panorama can be enjoyed on the first level. The bar with many different cocktails and drinks takes up the second level. Here we can also try the two machines with which we can try breathing air containing 95% oxygen.
The third level is a real curiosity: the panorama is not fixed as the floor is slowly rotating so we can see the whole 360° panorama while sitting comfortably at our table which also have interactive displays with board games, drawing and puzzle applications. The touch screen tables and the monitors on the walls also present us with information about the history and renovation of the Water Tower, and photos, videos of the Lake Balaton.